Case Study: Failure to diagnose retinal detachments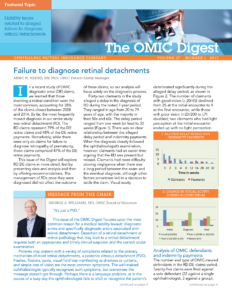 In a recent study of OMIC diagnostic error (DE) claims, we learned that those involving a retinal condition were the most common, accounting for 38% of the claims closed between 2008 and 2014. By far, the most frequently missed diagnosis in our entire study was retinal detachment (RD). The RD claims represent 79% of the DE retina claims and 48% of the DE retina payments. Remarkably, while there were only six claims for failure to diagnose retinopathy of prematurity, those claims comprised 47% of the DE retina payments.
This issue of the Digest will explore RD DE claims in more detail, first by presenting data and analysis and then by offering recommendations. The management of RDs once they were diagnosed did not affect the outcome of these claims, so our analysis will focus solely on the diagnostic process.
Read the case study in its entirety by clicking the image.
Please refer to
OMIC's Copyright and Disclaimer
regarding the contents on this website