Failure to diagnose retinal detachments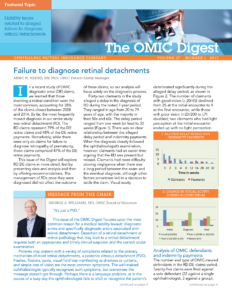 ANNE M MENKE, RN, PhD, OMIC Patient Safety Manager
In a recent study of OMIC diagnostic error (DE) claims, we learned that those involving a retinal condition were the most common, accounting for 38% of the claims closed between 2008 and 2014. By far, the most frequently missed diagnosis in our entire study was retinal detachment (RD). The RD claims represent 79% of the DE retina claims and 48% of the DE retina payments. Remarkably, while there were only six claims for failure to diagnose retinopathy of prematurity, those claims comprised 47% of the DE retina payments. This issue of the Digest will explore RD DE claims in more...
SEMINARS:
Aug
18
Sat
all-day
Women in Ophthalmology (WIO) 201...

@ Ponte Vedra Inn & Club
Women in Ophthalmology (WIO) 201...
@ Ponte Vedra Inn & Club
Join us at the OMIC session to be presented at the 2018 Women in Ophthalmology meeting on August 16-19, 2018 at the Ponte Vedra Inn & Beach Club in Ponte Vedra Beach, Florida.  Be sure[...]
CASE STUDY:
Failure to diagnose a RD by a comprehensive ophthalmologist
RYAN M BUCSI, OMIC Claims Manager
A 57-year-old corrections officer presented to an OMIC insured comprehensive ophthalmologist on referral from the emergency department. The patient reported a fall at work where he struck the left side of his head, face, and hip. He explained that his vision became blurred after the fall. His...
HOTLINE:
Diagnostic advice from the experts
ANNE M MENKE, RN, PhD, OMIC Patient Safety Manager
As reported in the lead article, our recent study of diagnostic error (DE) claims showed that the ophthalmologist's care was the primary factor in the delayed diagnosis of retinal detachments (RDs). Experts evaluating such malpractice claims have the advantage of knowing the patient's outcome and reviewing the records generated by all staff members and providers. They strive to understand the ophthalmologist's decision-making process, and may support care they understand even if they would have handled the situation differently. They...