Digest Vol 29 No 2 2019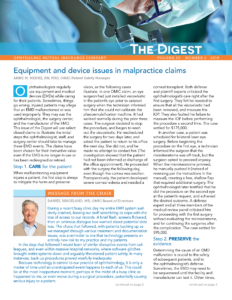 Ophthalmologists regularly use equipment and medical devices (EMDs) while caring for their patients. Sometimes, things go wrong. Injured patients may allege that an EMD malfunctioned or was used improperly. They may sue the ophthalmologist, the surgery center, and the manufacturer of the EMD.
This issue of the Digest will use select closed claims to illustrate the initial steps the ophthalmologist, staff, and surgery center should take to manage these EMD events. The claims have been chosen for their instructive value even if the EMD is no longer in use or has been redesigned or retired.
OMIC's Copyright and Disclaimer
regarding the contents on this website